Helianthus Giganteus: A Guide to Growing and Caring for Giant Sunflowers
Sunflower enthusiasts will adore Helianthus giganteus, a tall perennial native to North America, typically thriving in wet meadows, swamps, and near riverbanks. Its bright yellow flower heads can grow up to 7 cm in diameter.
Known as the tall sunflower for its towering height, this plant offers disease resistance, making it a valuable addition to gardens. Discover more about this stunning sunflower, including its habitat, characteristics, and care in this article.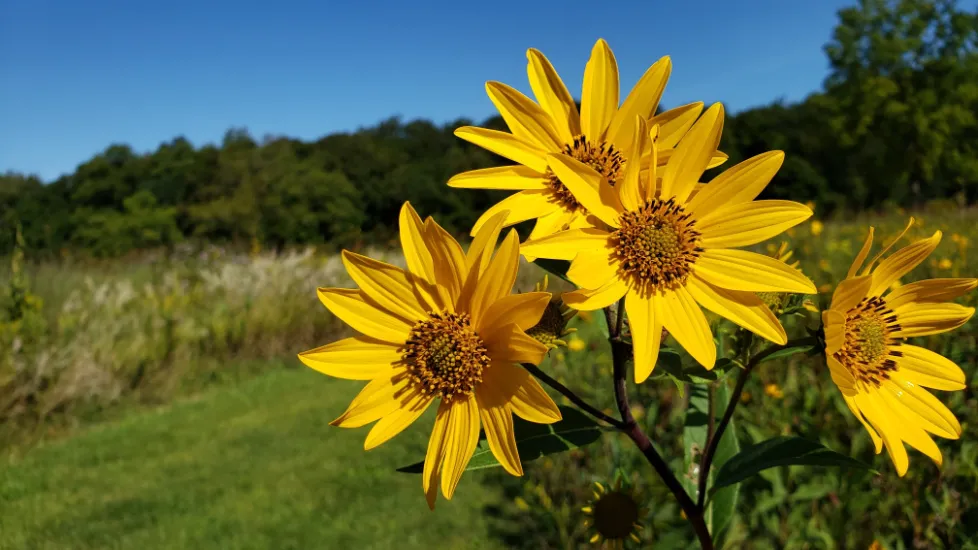 Helianthus Giganteus
If you are a fan of sunflowers, then Helianthus Giganteus should be on your list of must-see flowers.
This tall sunflower can grow up to 10 feet tall in optimal conditions, making it a stunning addition to any garden. In this section, we will explore the history of Helianthus Giganteus.
History
Helianthus Giganteus is native to North America and has been used by Native Americans for medicinal purposes. They used the roots to treat respiratory problems, and the leaves were used as a poultice for wounds. The plant was also used as a source of food, with the seeds being roasted and eaten.
In the 17th century, the plant was introduced to Europe, where it quickly became popular as an ornamental plant. Today, Helianthus Giganteus is widely cultivated throughout the world and is a popular addition to gardens and landscapes.
If you are interested in growing Helianthus Giganteus in your garden, it is important to note that the plant prefers moist soil and full sun. It can be grown from seed, and once established, it requires minimal care.
Growth and Care
Growing Helianthus Giganteus is a rewarding experience, but it requires some care and attention. Here are some tips to help you grow and care for your giant sunflowers.
Soil and Water
Helianthus Giganteus prefers well-drained moist soil with a pH between 6.0 and 7.5. The soil should be rich in organic matter, and you can add compost or aged manure to improve soil quality. Make sure the soil is loose and aerated, as compacted soil can hinder root growth.
Water your plants regularly, especially during the growing season. Helianthus Giganteus needs an average amount of water, but it can also tolerate drought conditions. However, it's important to avoid overwatering, as this can lead to root rot and other problems.
Light and Temperature
Helianthus Giganteus needs full sun to thrive. Make sure your plants get at least 6 hours of direct sunlight per day. If you're growing your sunflowers in a container, place them in a sunny location and rotate them regularly to ensure even growth.
Helianthus Giganteus is a hardy plant that can tolerate a wide range of temperatures. However, it prefers warm weather and can suffer from frost damage in cold climates. If you live in a colder region, you can start your sunflowers indoors and transplant them outside once the weather warms up.
Fertilizer and Pruning
Helianthus Giganteus doesn't require much fertilizer, but you can add a slow-release granular fertilizer to the soil before planting. Alternatively, you can use a liquid fertilizer once a month during the growing season. Be careful not to over-fertilize, as this can lead to excessive foliage growth and weak stems.
Pruning your sunflowers can help promote healthy growth and prevent disease. Remove any dead or diseased leaves, and cut back any stems that are growing too tall or too close together. You can also pinch off the top of the stem to encourage bushier growth and more flowers.
Pests and Diseases
Helianthus Giganteus is generally resistant to pests and diseases, but it can still be affected by common garden problems. Keep an eye out for aphids, slugs, and other pests, and treat them with insecticidal soap or other natural remedies.
You can also prevent disease by keeping the soil moist but not waterlogged, and by spacing your plants far enough apart to allow for good air circulation.
In conclusion, growing and caring for Helianthus Giganteus requires some effort, but the results are well worth it. By following these tips, you can enjoy healthy, vibrant sunflowers that will brighten up your garden and bring joy to your life.
Propagation Methods
If you want to grow Helianthus Giganteus in your garden, there are a few propagation methods you can use. Here are some of the most common ways to propagate this beautiful plant:
Seed Propagation
One of the easiest ways to propagate Helianthus Giganteus is by seed. You can start the seeds indoors in late winter or early spring, or you can sow them directly in the ground in the spring. Here are some tips for seed propagation:
Start the seeds indoors 4-6 weeks before the last frost date in your area.
Use a good quality seed starting mix and keep the soil moist but not waterlogged.
Place the seed trays in a warm, sunny location or under grow lights.
When the seedlings have developed their first set of true leaves, transplant them into individual pots.
Harden off the seedlings by gradually exposing them to outdoor conditions before planting them in the ground.
Division
Another way to propagate Helianthus Giganteus is by division. This method works best if you already have an established plant that has grown too large for its current location. Here's how to do it:
Dig up the entire plant, being careful not to damage the roots.
Divide the plant into smaller sections using a sharp knife or garden spade.
Replant the divisions in their new location, making sure to water them well.
Cuttings
You can also propagate Helianthus Giganteus from cuttings, although this method can be a bit trickier than seed propagation or division. Here's how to do it:
Take cuttings from the plant in late spring or early summer.
Make sure the cuttings are at least 6 inches long and have several sets of leaves.
Dip the cuttings in rooting hormone and plant them in a pot filled with a good quality potting mix.
Keep the soil moist and place the pot in a warm, sunny location.
After a few weeks, the cuttings should start to root. Once they have developed a good root system, you can transplant them into the ground.
Propagation is a great way to get more Helianthus Giganteus plants for your garden. Whether you choose to start from seed, divide an established plant, or take cuttings, you're sure to enjoy the beautiful flowers this plant produces.
Pests and Diseases
While Helianthus Giganteus is generally a hardy and disease-resistant plant, it is still susceptible to certain pests and diseases. Here are some common issues that you may encounter when growing this plant:
Pests
Aphids: These small insects can be found on the leaves and stems of Helianthus Giganteus, and can cause damage by sucking sap from the plant. You can control aphids by spraying the plant with a strong jet of water or by using an insecticidal soap.
Slugs and snails: These pests can be a problem, especially if you live in a damp area. They can be controlled by using slug bait or by handpicking them off the plant.
Japanese beetles: These beetles can cause significant damage to the leaves and flowers of Helianthus Giganteus. You can control them by using traps or by handpicking them off the plant.
Diseases
Powdery mildew: This fungal disease can cause a white, powdery coating to appear on the leaves of the plant. It can be controlled by removing infected leaves and using a fungicide.
Leaf spot: This bacterial disease can cause brown spots to appear on the leaves of the plant. It can be controlled by removing infected leaves and using a copper-based fungicide.
Root rot: This fungal disease can cause the roots of the plant to rot, which can lead to wilting and death. It can be controlled by ensuring that the plant is not overwatered and by using a fungicide.
By keeping an eye out for these pests and diseases, you can ensure that your Helianthus Giganteus plants remain healthy and vibrant throughout the growing season.
What Are the Benefits of Helianthus Giganteus
If you're looking for a stunning and beneficial plant to add to your garden, Helianthus Giganteus, also known as Giant Sunflower, is an excellent choice. This plant offers a variety of benefits, including:
1. Attracting Pollinators
Giant Sunflowers are known to attract a variety of pollinators, including bees, butterflies, and hummingbirds.
These pollinators play a crucial role in maintaining healthy ecosystems, and planting Helianthus Giganteus in your garden can help support their populations.
2. Providing Food for Wildlife
In addition to attracting pollinators, Giant Sunflowers also provide food for a variety of wildlife, including birds and squirrels. The seeds of Helianthus Giganteus are a great source of nutrition and can help support wildlife populations in your area.
3. Improving Soil Health
Helianthus Giganteus is known for its deep taproot, which can help break up compacted soil and improve soil health. Additionally, as the plant grows and dies back, it provides organic matter that can help improve soil structure and fertility.
4. Adding Beauty to Your Garden
Of course, one of the most obvious benefits of planting Helianthus Giganteus is its stunning beauty. With its tall stature and bright yellow flowers, this plant is sure to add a pop of color and interest to any garden.
Overall, Helianthus Giganteus is a fantastic plant to add to your garden. With its ability to attract pollinators, provide food for wildlife, improve soil health, and add beauty to your space, it's hard to go wrong with this stunning sunflower.
What are the Uses of Helianthus Giganteus?
Helianthus giganteus is a versatile plant that can be used in various ways. Here are some of the popular uses:
Culinary and Medicinal Uses
Surprise! The giant sunflower isn't just for show. Its young leaves can be cooked or eaten raw, adding a nutritious touch to your diet. Traditional herbalists have also used various parts of the plant for their medicinal properties. Talk about a multi-purpose plant!
Back Border of a Native/pollinator Garden
Helianthus giganteus can be used as a backdrop in a native or pollinator garden. It will add height and texture to the garden and provide late-season flowers when little else is blooming.
Naturalized Area
Helianthus giganteus can also be used in a naturalized area. Its tall stature and showy flowers will give a meadow-like effect.
Along Streams and Ponds
Helianthus giganteus prefers moist to occasionally wet acidic sandy to clay loams, making it an excellent choice to plant along streams and ponds.
Wildlife Food Source
The flowers of Helianthus giganteus provide nectar to pollinators from July until the first frost. Songbirds, ruffed grouse, quail, mourning doves, and small mammals are attracted to seeds, so leave standing dead flowers into the winter as natural bird feeders.
Frequently Asked Questions (FAQs)
Can Helianthus giganteus tolerate part shade?
Yes, Helianthus giganteus can tolerate part shade but flowers better in full sun.
Does Helianthus giganteus attract pollinators?
Yes, the flowers of Helianthus giganteus provide nectar to pollinators from July until the first frost.
Does Helianthus giganteus require staking
Yes, because stems can be flimsy, plants may need to be staked, especially if planted in a windy location.
Conclusion
Helianthus giganteus is a native perennial plant that can add height and texture to any garden. It produces showy yellow daisy-like flowers from mid to late summer into fall, making it a favorite of pollinators and songbirds. It's versatile and can be used in various ways, including in the back border of a native/pollinator garden, naturalized area, or along streams and ponds.
It's easy to propagate through division, root cutting, or seed, and it doesn't require much care. Overall, Helianthus giganteus is an excellent addition to any garden and is sure to attract attention with its beautiful flowers.
Related Posts: